Mechanical Shutter button  
It takes our team 13 months and 8 prototypes to build this core function. Our Unique mechanical shutter button doesn't rely on Bluetooth, any software or hardware to plug into the iOS system.  Just initiate your phone's shooting mode, and press the shutter button embedded in the case. The mechanism is safely integrated into the case and gives you the satisfying click of a Real Camera. Shoot by one hand. Shoot vertical.  Quick and Easy.
Replaceable Camera Handle
Smartphones are designed for communication, not for taking photos. It's just awkward to use one hand holding the phone and the other one fumbling around on the touchscreen. No more, we say!
Shuttercase gives you a camera handle that enables to you hold your phone like a light-weight DSLR. We try to mimic the shape and feel of your favorite vintage camera, a design that has been perfected over more than 130 years.  
3000mAh Battery
Built-in the Camera Handle
Shuttercase's removable camera handle does much more than making it easier to take photos. Inside is a powerful battery that recharges your phone as you take photos and videos.
Powerful. Handy. Removable. Pocketable.
Moment Lens Mount Interface
The design philosophy of Shuttercase is to develop an open platform for smartphone add-on lenses so that you can try different things. Our lens mount plate is replaceable and removable. Currently, Shuttercase is compatible with Moment V2 ( M ) lens system, including the popular Moment Anamorphic lens, the Wide 18mm lens, the Tele 58mm lens.  Not compatible with the V1 ( the O series ) lenses. 
iPhone Stand built-in
Shuttercase's removable camera handle also acts as a stand for your phone. It's easy to watch movies or browse through your photos hands-free, in either horizontal or vertical position. 
Selfie with iPhone has never been easier. Just position Shuttercase vertically, keep a little distance and start iPhone X's count-down self-portrait shooting mode. 5 seconds later, you got a perfect portrait! IGTV or Instagram users will find this function so comfortable. 
Everyday Case 
with Mechanical Shutter embedded
Shuttercase is not another cumbersome camera gear.  We design it always with our everyday user in mind.  Just remove the camera handle and push on the thin hand-grip, you will get a light-weight everyday protective case.  What's better, the mechanical shutter button is still there functioning. So, you have the best of both worlds.   Shuttercase is the ultimate tool we create for you photo-lovers and Instagrammers. 
Better with Nylon Strap
We have specially created a Nylon strap to match Shuttercase so that you can easily hang it and carry it anywhere. 
Specs
Dimensions: 163 mm * 85 mm
Thickness: 4.4 mm
Weight without Camera Handle: 77 grams
Camera Handle weight: 67 grams
Battery Capacity: 3000mAh/11.1Wh
Output: 5V = 1A
Input: 5V = 1A
micro-USB cable (for charging the battery grip)
What's in the box
Included in the box:  one Shuttercase including 11.1Wah battery camera handle, one micro USB-USB charging cable,  one black pouch for camera handle, one black nylon rope, one leather surface effect hand grip to replace the camera handle, two thumb buttons. No add-on lens or leather strap is included.
As Featured on Media
"The modular design - lens mount, camera handle with battery, leatherette cover and thumb rest are all removable - allows you to use the battery pack when taking pictures with your iPhone and removing it and other components and leaving them at home for normal smartphone use. It also sets the Shuttercase apart from competitors such as the Pictar camera grip or battery packs from Mophie and others." — Lars Rehm | DPREVIEW 
"Shuttercase is an engineering masterpiece that transforms your smartphone into a professional-looking camera. It's not a DSLR, but it's far better than a point-and-shoot."—Jordan Carton | Gear Hungry
"Your iPhone is a great camera trapped in the body of a smartphone.  Shuttercase restores the ergonomic sensibility of your ancient DSLR to the iPhone with a grip and mechanical shutter button for quicker, reactive shooting." —David Pierini |  Cult of Mac
Javen Dovey recommends Shuttercase
Customer Reviews
10/20/2020
jerome r.
United States
08/13/2020
Stephen H.
Japan
Mixed feelings
Although I like the design and use of the Shuttercase, I'm finding it hard to write a positive review due to some issues I have with some aspects of the design. The 18mm Moment lens I'm using doesn't sit well in the slot over the lens. When I compare the Shuttercase with the original Moment case I see that the lens twists and stays firm in the Moment case, but feels somewhat looser and liable to fall out in the Shuttercase. Also. A number of my photos have blurred upper left hand corners where the lens hasn't sat properly over the iPhone camera. I think the lens mount needs to be a tad thicker and have a stopper so the lens can only be twisted 45 degrees before it is tightly in place.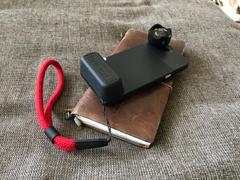 07/03/2020
Edison R.
Canada
Great case !
I am very satisfied plus got some extra pieces which was appreciated
06/22/2020
Zakk F.
United States
Damn good but here's my feed back
I love the case first off all though there are a few things to add/fix. Where the battery pack cable attaches to the phone it's at an angle where if the case is ground down slightly to make more clearance for the cable it will fit better.
01/07/2020
Jay A.
United States
Impressed with the product and customer service
I received the shuttercase and got a defective battery. I contacted customer service and they sent me a replacement battery the following day. Great service! I love this shuttercase on my phone! It fit and feels good on my hands. I'm a photography/videography enthusiast that use DSLR cameras and go pros all the time. However, sometimes, it's not practical to do so because of the amount of gears to haul. Now with the Shuttercase, I think I will be using the iPhone more often. Good job Shuttercase for this great product.