The Case That Matches Your iPhone
This is the case that we've always wanted to make: simple, elegant, with a charming yet subtle texture that truly matches the beauty of your iPhone. 
Modern Aesthetics with a Classic Touch
The richly hued rosewood with carbon fiber decorations adds a unique style to your phone. You will love the touch of the texture when you hold the case.
Works with MagSafe and Qi Wireless Charging
Yep, you can charge any way you want: by standard cable through the lighting port, or by the latest MagSafe charger, or just any Qi wireless chargers.
Essential Protection Ready
Our shell cuttings molds are produced with the industry's highest standard. We make sure your phone sits nice and safe in our case.
Premium yet Affordable
We've made all kinds of cases with fun functions in the past. Now, we are back to the basics. When designing the Zencase Lite series, we had a simple belief: Quality things shouldn't always be expensive. We try to deliver a premium experience at a relatively affordable price. Let us know if we have done it right, please ~
Specs and Warranty
Dimensions: 76.1mm X 151.3mm for iPhone 12 and iPhone 12 Pro; 82.8mm X 163.1mm for iPhone 12 Pro Max
Backing Thickness: 2.0mm
Net Weight: 35.6g for iPhone 12 and iPhone 12 Pro; 44.4g for iPhone 12 Pro Max
Material: TPU body with rosewood and carbon fiber veneer
Warranty: 1 year | Free 30-days Return
Customer Reviews
01/17/2021
Sam J.
United States
The best wood case for iPhone
I've been using the last-gen Shuttercase for XS and it's fantastic. With upgrades to the iPhone 12 Pro, I found it's unnecessary to add any lenses any longer. So I decided to give a shot at their new product line. I'd say I'm quite happy with my purchase. The case is solid, stylish, and just looking great in the combination of wood and carbon fiber. I'd definitely recommend it to anyone that wants a light protective case with a unique style.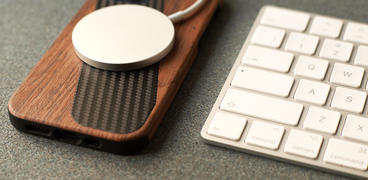 Excellent Quality as Always
This is my second purchase at shuttercase. The first is the XS Max Shuttercase with battery grip. Great case. Now I updated to the new phone and I'd still try their new case. Overall, I'm very happy. Wood grain and carbon fiber texture are not uncommon, but the way this case combines both does make a difference. Fits my 12Pro Max perfectly. You do have to align the case and charger in the center when using wireless charging, but I had no issues at all.
Beautiful
The case fits well, and feels good. The carbon fiber texture shines beautifully when hit by sun light from different angles. I'M IMPRESSED.
MagSafe alignment is tricky
Love the design and the overall texture. But the case just doesn't do well automatic magnetic clip when putting on my MagSafe charger. I had to center- align the case with the charger, which was tricky. I found that the fastest and most accurate alignment is to grab the MagSafe charger and stick it directly to the back center of the case. You could feel that magnetic click instantly.
Never disappoint
Looks good and feels premium.. This is the third time I purchased their cases. The Shuttercase team never let me down. Well done, guys